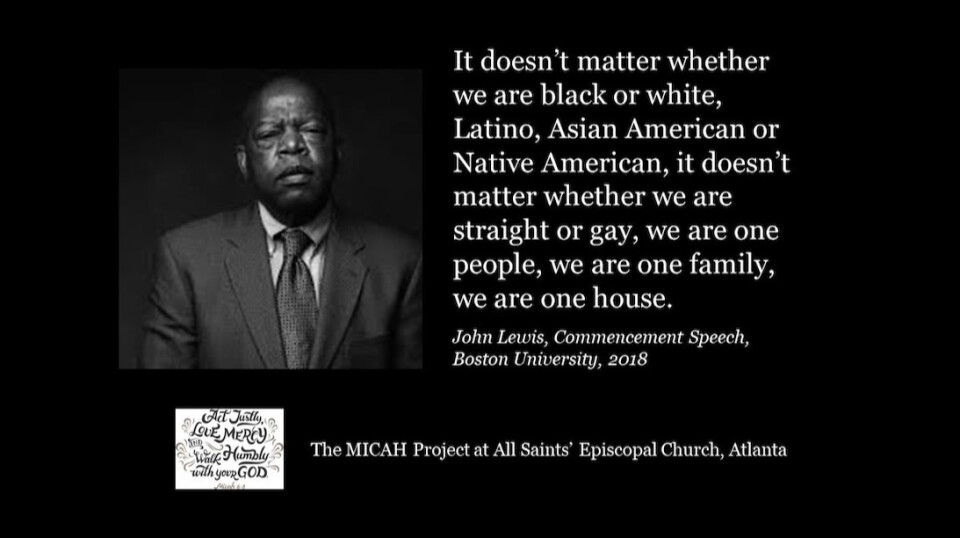 The MICAH Project invites you to get into "Good Trouble" during Lent by reflecting on the words of the the late Representative John Lewis. We offer one blog post for each of the five weeks of Lent to encourage you to think about how we might get into the "Good Trouble" that furthers our spiritual formation and contributes to racial healing.
Each week's post contains: (1) a quotation from John Lewis, (2) prayer or scripture relating to the quotation, (3) reflections or action items, and (4) a link to a video or website relating to the quotation.
Join us for Week Three:
Quotation
"It doesn't matter whether we are black or white, Latino, Asian American or Native American, it doesn't matter whether we are straight or gay, we are one people, we are one family, we are one house."

John Lewis, Commencement Speech, Boston University, 2018.
---
Scripture
A new commandment I give to you: love one another. As I have loved you, so you must love one another. By this everyone will know that you are my disciples, if you love for one another.
John 13:34-35
---
Action
Try to pray every day for someone you do not love.
---
Link
Presiding Bishop Michael Curry, "A Word to the Church," from January 8, 2021.