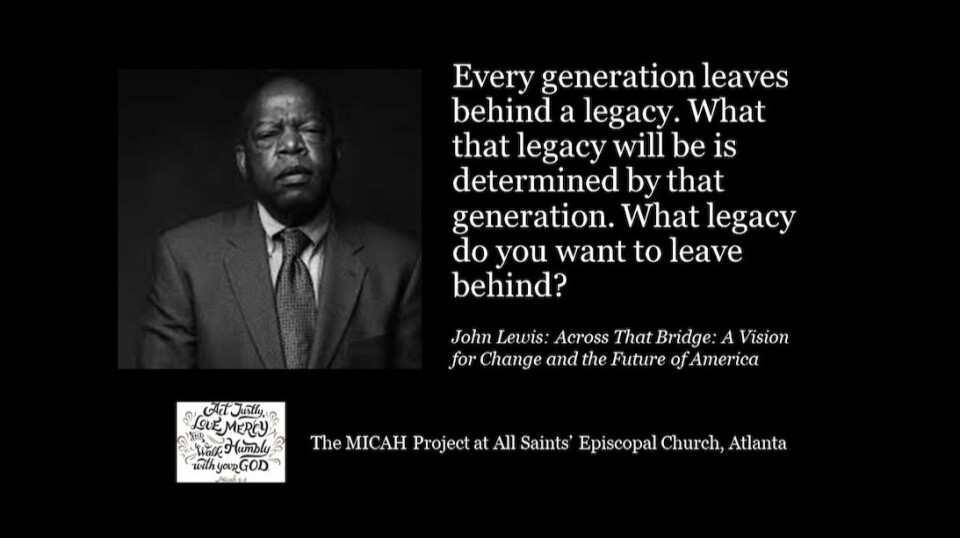 The MICAH Project invites you to get into "Good Trouble" during Lent by reflecting on the words of the the late Representative John Lewis. We offer one blog post for each of the five weeks of Lent to encourage you to think about how we might get into the "Good Trouble" that furthers our spiritual formation and contributes to racial healing.
Each week's post contains: (1) a quotation from John Lewis, (2) prayer or scripture relating to the quotation, (3) reflections or action items, and (4) a link to a video or website relating to the quotation.
Join us for Week Four:
Quotation
"Every generation leaves behind a legacy. What that legacy will be is determined by that generation. What legacy do you want to leave behind?"

John Lewis: Across That Bridge: A Vision for Change and the Future of America
---
Scripture
If you offer your food to the hungry and satisfy the needs of the afflicted, then your light shall rise in the darkness and your gloom be like the noonday. The Lord will guide you continually, and satisfy your needs in parched places, and make your bones strong; and you shall be like a watered garden, like a spring of water, whose waters never fail. Your ancient ruins shall be rebuilt; you shall raise up the foundations of many generations; you shall be called the repairer of the breach, the restorer of streets to live in.
Isaiah 58:6-12
---
Reflection
What legacy have you inherited that you want to change for the next generation?
What legacy have you inherited that you want to maintain for the next generation?
---
Link
View the website for The National Memorial for Peace and Justice and The Legacy Museum (Equal Justice Initiative).