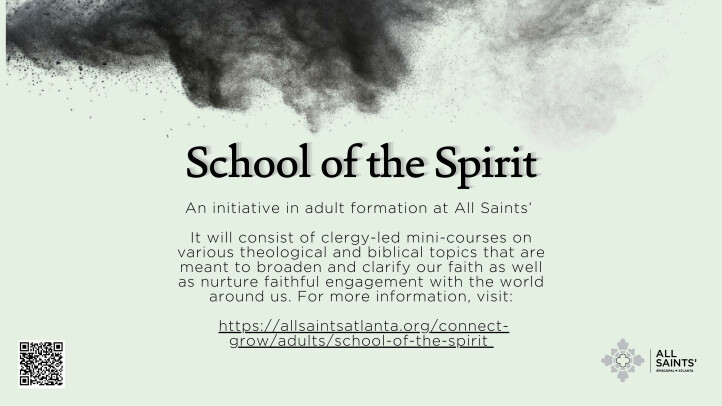 "Spirituality ... must not be a lovely fluid notion or merely self-regarding education,

but an education for action," Evelyn Underhill (1875-1941).
The School of the Spirit is a new initiative in adult formation at All Saints'. In its first articulation, it will consist of clergy-led mini-courses that, in Underhill's provocative phrase, are meant to nurture "the education of the spirit." In other words, they are meant to help us love God holistically with all our heart, all our soul, all our mind, and all our strength. According to Jesus, this is the greatest commandment, and it leads seamlessly to the second which is "like it": you shall love your neighbor as yourself. The education of the spirit is also then "an education for action." It is formation that nurtures faithful engagement with the world around us. The name "School of the Spirit," points to our own spiritual growth as well as to the Spirit of God that "blows where it pleases," energizing us for action.
Education for action does not mean, though, that the course content only addresses the direct application of our faith. Americans are pragmatic people, and Episcopalians are arguably the most pragmatic of Protestants, but what sometimes gets lost in our focus on practice is the rich inheritance of theological resources that we may draw upon to broaden and clarify our faith. These theological resources not only ground our faith but, when internalized over time, may also help us act on our faith in creative and relevant ways. Public theology, biblical theology, and theological ethics, for example, may not at first
seem
practical, but they become practical when the attention we give them is fueled by the question, "What does this mean for us today?"
Course Logistics
The School of the Spirit courses will consist of three-to-six-week sessions that will meet in a hybrid format (concurrently in person and on Zoom). The courses will offer in-depth reflection on a range of topics that will necessitate some level of commitment on the part of participants — they may involve short, manageable weekly reading assignments, for example. But the time commitment aims to be realistic, given our multiple responsibilities and busy lives.
The School of the Spirit offerings may also take the form of a book discussion, or a course connected to an event (like a domestic pilgrimage), or an opportunity for reflection in relation to a core ministry of the church, what is sometimes referred to an "action-reflection" process.
For more information, contact the Rev. Dr. Jenny McBride.
Upcoming Courses
More Coming Soon!
Book Discussion on McBride's
You Shall Not Condemn: A Story of Faith and Advocacy on Death Row
March 8, 15, 22, 29
Hybrid (in person in the Ross room and on Zoom)
You Shall Not Condemn
tells the story of Kelly Gissendaner, the only woman on Georgia's death row until her execution in 2015 and highlights the role theological studies played in her faith and in advocacy efforts on her behalf. Central to the book is the written correspondence between Kelly and German theologian Jürgen Moltmann, known internationally as the "theologian of hope." After reading Moltmann's work in a course taught by McBride at the prison, Kelly began a five-year correspondence with him. When Kelly was denied clemency, a local and international advocacy movement arose that was rooted in her theological studies and friendship with him. The book weaves together storytelling and theological reflection, connects the death penalty to broader concerns about the prison system, and offers practical ways that parishioners may get involved in prison ministry.
The Cathedral Bookstore offers a 10% discount if you buy the book in person or by phone, or you may order the book on-line through amazon.com.
Register on Realm at via this link. A reading guide is available here.
The first course in the School of the Spirit, a book discussion of Jenny McBride's You Shall Not Condemn: A Story of Faith and Advocacy on Death Row (Cascade, 2022) will take place Wednesdays from 7:00-8:00pm in hybrid format (in the Ross room and on Zoom), March 8, 15, 22, and 29.