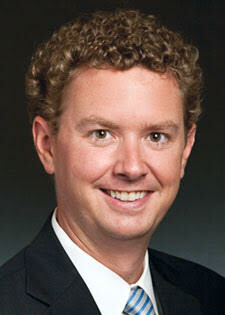 Charlie Henn
Clerk
All Saints' member since 2002
Recent parish activities include:
For the past fifteen years, I have served on the single greatest ushering team in the history of the Anglican Communion, a.k.a, the "Naked Ankles" crew (9:00 a.m. in March, July, and November), which is fearlessly led by Rick Woodward, who successfully executed a bloodless coup against our former leader, the inestimable Hank Harris. Other parish activities include: wearing inappropriately garish Christmas suits while welcoming parishioners to the 5:00 p.m. Christmas Eve service, hosting St. Catherine's-related cocktail parties with my wife, Anne, and attending Karol Kimmell-led youth and junior choir performances featuring our kids, Sarah and Campbell.
Strengths and skills I can offer the vestry:
Over the past twenty years, I have served on nine non-profit boards of directors, with annual budgets ranging from the low six-figures to $22 million. I have served as Chairman for four of those boards and am currently the Development Committee Chair for the Boys & Girls Clubs. Through that experience, I have learned a great deal about the business of running a not-for-profit entity and have developed skills in the development/fundraising area, including having led both annual and long-term capital campaigns. I am also a lawyer, so, in addition to being boring at parties, I am obsessively organized and prone to over-attention to detail.
Charlie would also like you to know:
My wife, Anne, is very involved at All Saints', including helping to coordinate the St. Catherine's Guild, despite (don't tell her I told you) having surpassed the 39-year-old age cap many years ago. We have two children, Sarah and Campbell, who were both baptized at All Saints and–when soccer does not conflict–sing in the choir. Outside of All Saints, I currently serve on the Board of Trustees of Theatrical Outfit, the Boards of Directors of Boys & Girls Clubs of Metro Atlanta and Flying Carpet Theater, and on the Alumni Board of The Westminster Schools. My community involvement is largely in the area of the arts, having been a founding board member of ArtsATL.com, and having previously served on the boards of Theater Emory, Out of Hand Theater, and Arts Now.