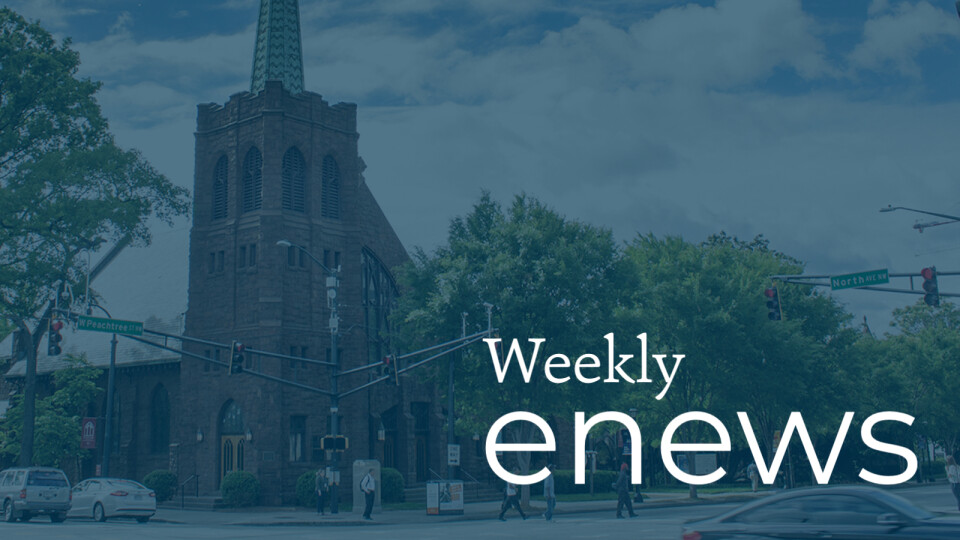 Dear saints,
When I look back over the 'pivot on a dime' that the All Saints' staff did in March of 2020— how our entire life as a parish shifted from a city block teeming with life to computer screens and seemingly endless pandemic protocols—I am reminded of two things.
One: We have yet to take the pause we all need to ask what the COVID-19 years have meant to our lives. All of those lessons that seemed clear and present then have become fuzzier over time. We were all going to re-assess what it means to work, and to play, indeed what it means to share life altogether. Let's not neglect to do that.
Two: There was a lot of joy. Joy joined alongside the heartbreak of that season of life, with many months of challenge and for millions of families across America. Joy joined alongside the pain of loss. Given all the challenges, I think we had to find the joy. We had to find the hope.
I will forever associate that joy and hope with this place and the people I saw most in 2020— the staff of All Saints'. We now know many of the rooms of one another's houses, our eating habits in the (virtual) company of others and how much we care for one another as people who call this church our workplace.
The carer-in-chief and number one protagonist in our drama, seeking a joy in a twisty plot was our beloved Director of Parish Life, Jill Gossett. Jill finds joy in other human beings. She has a range of laughs, a solid supply of catchphrases and she celebrates others with a wonderful combination of playfulness and holy respect. She is a gift to All Saints'. Therefore it is sad for us, but glorious for the world that next month we will bid farewell to Jill as a member of our staff as she takes on a new challenge, beginning a fresh chapter in her life.
Jill will remain ours, and we will remain hers. She, Glynn and Drew will continue to be beloved members of this parish. Her final Sunday on staff will be November 12, and we will host a farewell on that day for her in Ellis Hall following the 9:00 a.m. service.
I told Jill this week that as her priest, I am delighted for her and for all this new chapter will offer to her life. As her rector, I shared that I will sorely miss seeing her around day-to-day on West Peachtree and North Avenue. I also told her that this parish will want to celebrate her ministry here and give thanks for all the joy and hope she has made present in this place.
Please join me in praying for Jill and all that lies ahead with faith and thanksgiving.
Peace,
A Note from Jill:
Dear Friends,
I want to thank all of you for allowing me to serve as your Parish Life Director for four years. It has been an honor, and a wonderful, rich journey for which I have you to thank from the bottom of my heart.
We have shared so much laughter, a few tears, and everything in between. You have taught me about God's love for all people, and God's grace. I cannot possibly count the number of gifts I have received while working at All Saints'. One very special gift has been working with the most outstanding colleagues.
My new job as Officer of Gifts and Events at Piedmont Healthcare Foundation will allow me some freedom to travel on weekends as my family's lifestyle is changing. God is opening a new door for me, and please know that my door will always be open to you.
All Saints' is a special place for my family. My husband Glynn, my son Drew and I will continue to call this home. God is good.
With affection,
Jill