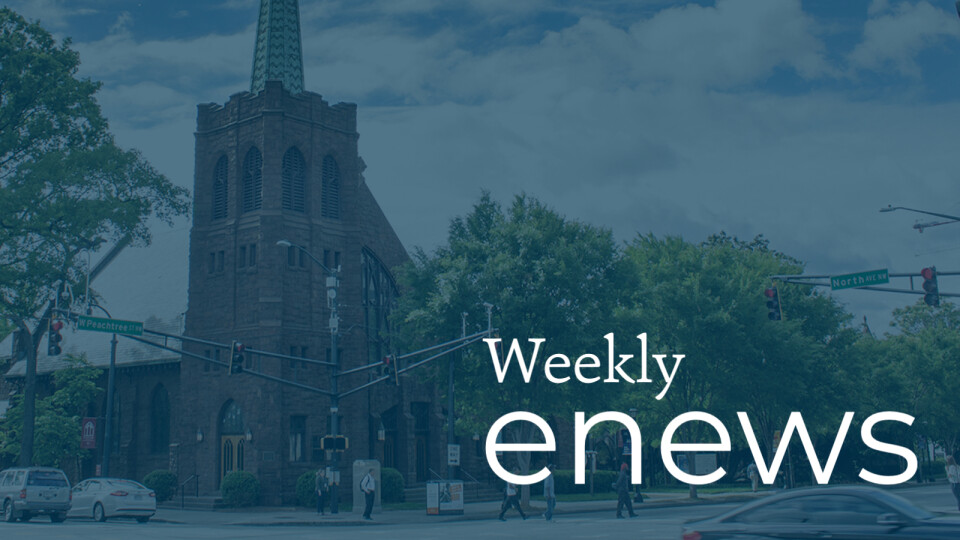 Dear saints,
This week I've been away at the Episcopal Parish Network conference in Jacksonville, FL. Part of the conference featured clergy leaders who have served in places where events that have garnered national attention have intersected with the life of the church. Clergy spoke movingly of their work in Memphis following the death of Tyre Nichols, in Colorado Springs in the wake of the Club Q nightclub shooting, and in Lafayette Square, Washington DC, during weeks of protests in the summer of 2020. Each of the clergy who spoke asked the same question: what is the church called to be in times of conflict and crisis?
One image that spoke to me to help form an answer to that question was offered by Sam Wells, Vicar of St. Martin in the Fields, London. Sam spoke of the 'altar rail principle', the idea that when we gather at the altar we are constituted by something far bigger than political allegiances or particular views of the world. What's more, as people constituted in Christ, we are called to draw people toward a vision for human flourishing that trusts in the power of God's love and grace to soothe the pain of the suffering and answer the call to justice. The church's place in the public square is to cast a vision that says that God's future is always bigger than the divisions of our present or past.
As Atlanta makes its way into the news this week let us ask how we might invite one another and this city into that sort of future. God so loved the world, so we are called to also. Love the protestor. Love the police. Love the politicians we voted for and love the ones we didn't. Love them all. It's route one for the kindgom of God and the road we'll meet our Lord upon. Let us love first - God's hope for us and for all people. Keep the faith and see you in church.
Peace,
Simon+
---
Announcing Maurice Reddick's Retirement
This May, after 19 years of service to All Saints', Maurice Reddick is hanging up his boxing gloves as our Facilities Manager and heading off into retirement. If I were to tell you how many HVAC units we have at All Saints' you would probably need a moment to recuperate. Maurice has covered a lot of ground these past nearly two decades, on roofs, in crawl spaces, and everything in between making sure that you and I can enjoy the life we do here safe, warm, cool and comfortable. We are deeply grateful. In planning for this transition we set about finding Maurice's replacement early enough to provide a two-month cross-over period for Maurice and his successor to work together. Given all this, I am delighted to share that on Monday, Jeff Crouch will be joining us as our new Facilities Manager, bringing to All Saints' thirteen years experience in the maintenance and building management world, and prior to that eight years in the United States Marine Corps. Please join me in giving thanks for Maurice's service here, and praying for Jeff's future success among us.