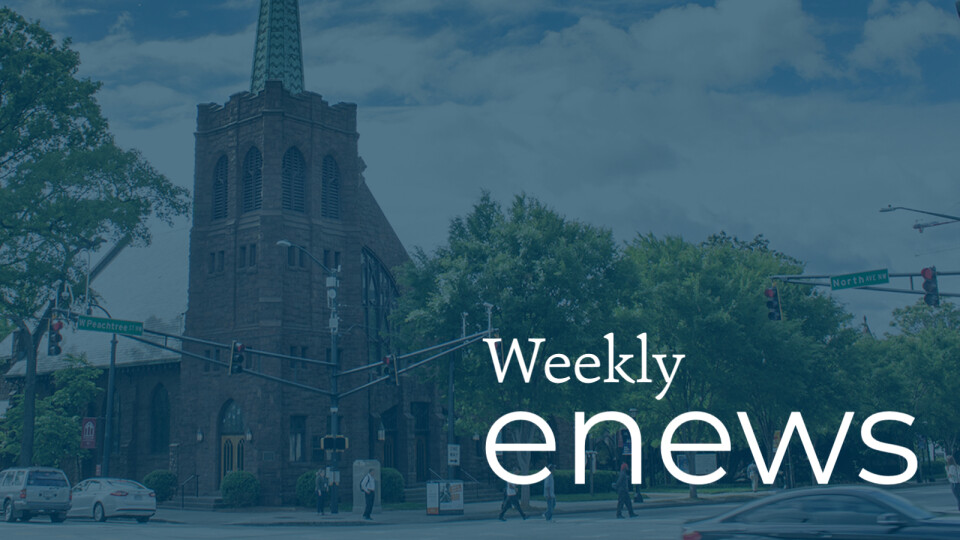 Dear saints,
'There is a time for everything', and one of the consequences of having such outstanding associate rectors at All Saints' is that the time inevitably comes when they feel the call to serve the church in other places. Below you'll see a note from Zack Nyein sharing news of such a call that he has heard in his life. Over the past three years Zack has led our work with children and youth and in our community engagement and communications with skill, joy and vision. We are richer for his ministry among us and he goes with my deep gratitude and blessing. I have forewarned Zack that he and Michael should expect plenty of saints in Manhattan paying a visit in the time to come, and All Saints' will always be a home for them both.
While Zack will be with us until December, at the end of August we will be saying goodbye to one of Zack's team members, Joel Smith, who has served All Saints' as Youth Minister for the past four years. Joel has offered rich gifts, connecting with our teens and fostering a community of meaningful fellowship and faith. He has renewed our relationship with Camp Mikell and extended our ministry to diocesan youth programs. He will be missed a great deal and he goes with our blessing as he explores a career beyond church ministry details of which he shares below.
I will collaborate with lay leaders and staff to identify the gifts that we feel we need in a new Youth Minister who should join us later this fall, and in an Associate Rector who will join us in the new year. Please pray with me for Zack and Joel as they make their respective transitions over the coming weeks and months.
Peace,
Simon+
---
From Zack:
Dear saints,
With a bittersweet mix of grief and excitement, I share news that the time is coming when I will join the ranks of All Saints' clergy formed and sent for service in the wider Episcopal Church. I have accepted a call to St. Bartholomew's Church in the City of New York ("St. Bart's"), where I will serve as Senior Associate Rector beginning in January 2022.
A former rector often described All Saints' as "the world's greatest parish." At risk of promoting ecclesiastical vainglory, I've found the sentiment resonant in myriad ways. All Saints' extraordinary vitality and excellence across parish life provides an inspiring, hopeful, and much needed example for the whole church, as we seek to make the gospel real and relevant in our lives and in the world today. I know I will continue drawing on the wisdom and faith of the saints on this block as I make the move from Midtown Atlanta to Midtown Manhattan.
Situated on Park Ave., St. Bart's shares much in common with All Saints' as an urban, destination parish, faced with all the challenges and opportunities that come with ministry in the city. My new role at St. Bart's is anticipated to include particular involvement and leadership in the areas of justice and reconciliation, newcomer engagement, children and youth, and innovative worship. I hope you will come worship with us and see me and Michael whenever you find yourself in New York.
My last Sunday at All Saints' will be December 5, which means it is not time to say goodbye just yet. I look forward to working with Simon, our staff, and lay leaders to ensure a smooth transition for children's and youth ministries, as well as for our communications team, in the months ahead. In the meantime and always, "I thank God every time I remember you" (Philippians 1:3).
Love,
Zack+
---
From Joel:
Dear saints,
It's been a wonderful four years as your youth minister, but the time has come for me to move on. In the next couple of weeks, I'll be transitioning into a career in the automotive industry in which I'll be rescuing, restoring, and selling classic cars. Serving y'all has been the pleasure of a lifetime, and I hope that I'll have your support and prayers as I make this move. To the youth, I have loved the time we've spent playing and studying in the Attic, worshiping and singing during choir trips, and traveling to Camp Mikell and Kanuga. I wish you all the very best, and even though I'm leaving, I'll just be a phone call or a text away.
Peace,
Joel