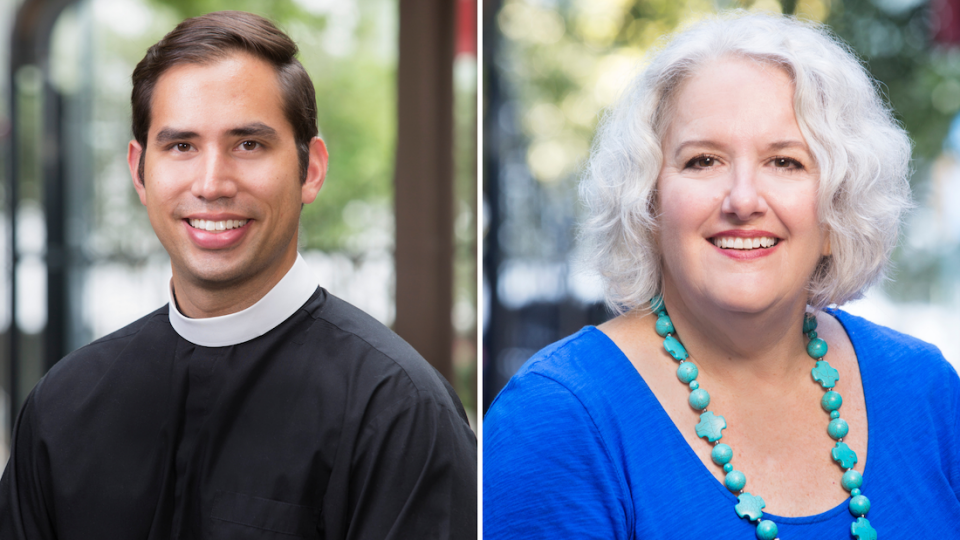 Dear saints,
Next month will be a significant time of farewell for us at All Saints', as we give thanks for the ministries of Zack Nyein and Pat Kiley.
Zack's final Sunday will be on December 5 and we will celebrate him with a gathering in Ellis Hall following the 9:00 a.m. service. Since joining All Saints' in 2018, Zack has been instrumental in the revitalization of our website and social media channels as we seek to reach out to those beyond our parish. In that vein, he has pioneered new expressions of worship with our Vigil in Piedmont Park during Holy Week and with the Diocese's 'Imagine Church' series. With our ministries for children and youth, Zack led a revisioning process that has enabled us to grow in spirit, in numbers and in the adult members of our parish who are choosing to invest in the lives of our children, an essential aspect of our growth we will continue to pursue. As Zack goes on to serve God at St. Bart's in New York City, he and his husband Michael go with our deep gratitude and heartfelt blessing.
Pat draws her three decades of service to All Saints' to a close on December 17. We will give thanks for Pat's years of love and ministry here with a grand party in Ellis Hall on Thursday December 16, starting at 6:30 p.m. If you cannot attend but would like send a brief sixty second video message, please email Jill Gossett by December 9 at . If there are any tears of sadness that night, there will certainly also be plenty of laughter and an abundance of love. It is hard to put into words quite how valuable Pat Kiley has been to this church. Her counsel and care for me has been so incredibly important in my first years here as rector. I would have been lost without her. I know that Geoffrey would say the same, as would Harry. As Pat retires and moves home to Alabama, we wish her God's speed and every blessing. Personally, I will miss her profoundly.
In honor of Pat and Zack's service to All Saints', I would like to invite you to contribute to a purse for each of them, which will be presented at their farewell gatherings respectively. You are welcome to make a donation online or via check, noting who you would like the gift to go to in the memo line.
Finally, as we pray for these saints as they move to new chapters in their lives, may we also pray for the church in this place, with faith and thanksgiving for all that lies ahead.
Peace,
Simon+