AdultsAll ChurchChildcare
A Vision for All the Saints
Sunday, February 20 from 10:15-11:05 a.m. in Ellis Hall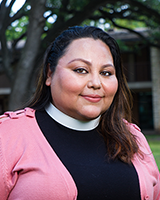 The Rev. Nancy Frausto is Director of Latinx Studies at the Seminary of the Southwest in Austin, Texas. Born in Zacatecas, Mexico, Nancy immigrated to the U.S. as a child, and she is the first and only DACA (Deferred Action for Childhood Arrivals) beneficiary priest in the Episcopal Church. Nancy's ministry seeks to honor diversity in language, culture, social-economic status, and race in people's stories. Learn how the church is invited to embrace the increasingly multicultural nature of our nation in the future ahead.
This forum is part of our series, A Vision for All the Saints.
We plan to record this conversation and the recording will be available in our Video & Audio Library.
Questions? Contact Simon Mainwaring at smainwaring@allsaintsatlanta.org.