Concert SeriesMusic
Saturday, December 11 at 7:30 p.m.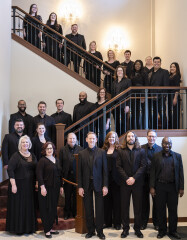 Coro Vocati is an ensemble of professional singers based in Atlanta, Georgia, with a mission to create music at the highest level of choral artistry. Now in its eleventh season, the choir has established itself as one of the premier professional choral ensembles in the southeast, featuring some of the region's most talented vocalists with polished performances celebrating unique and intriguing programming. Their annual Christmas concert at All Saints' has become a highlight of our season. Under the leadership of renowned choral conductor and educator Dr. John Dickson, and in collaboration with pianist and organist Dr. Jonathan Crutchfield, Coro Vocati is excited to return to the performance stage for the 2021-2022 concert season. Learn more at corovocati.org.
Tickets are available online or at the door. All concerts are $25 for general admission and $10 for students (unless otherwise noted). Children and teens under 18 years of age may attend all concerts at no cost.