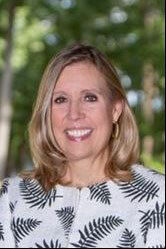 Martie Zakas
All Saints' Member since 1992
Recent parish activities include:
Over my years at All Saints', I have chaired and served on the Finance Committee, served on the Vestry, taught Sunday School, served on special task force teams for the Children's Center and Tate Hall, and loved being a member of the St. Mary's Chapter.
Strengths and skills I can offer the vestry:
I have extensive experience that would benefit All Saints', including prior service on the All Saints' Vestry and Finance Committee, service on the Boards of many not-for-profits, service as a CFO of a public company, and service as a Board member of another public company. I welcome the opportunity to serve All Saints' Church and the parish. I am a life-long Episcopalian, having grown up at St. Stephen's in Richmond, Va. and have been a member of All Saints' since we moved to Atlanta.
Through my professional work experience, I bring leadership skills and an ability to work as a team member. I have a strong Finance background and have served on and chaired Audit Committees. Additionally, I have led both internal and external communication teams.
My husband and I have raised our four children at All Saints', so, I am very familiar with the youth programs from the nursery through to pilgrimages and senior high. I enjoy learning from and working with others and am committed to helping ensure that All Saints' continues to grow and prosper with its mission.
Martie would also like you to know:
I am the CFO of Mueller Water Products and have worked in several industries, in various corporate executive positions, since graduating with a JD and MBA from the University of Virginia.
I currently serve on the Investment Committee for Children's Healthcare of Atlanta and am a Director for the Atlanta Area Boy Scouts Council. Previously I served on other not-for-profit boards, including Berkeley Divinity School at Yale University, my alma mater Randolph College, The Westminster Schools, St. Jude's Recovery Center, and The Georgia Trust.
Dennis and I have raised our four children, Virginia, Page, Ned and Cabell, at All Saints' where we have enjoyed baptisms, confirmations and weddings. Our first grandchild will be baptized at All Saints' next month.