AdultsIn-PersonMICAHRacial Equity and HealingSpiritual PracticesYoung Adults
A Path to the Future: Celebrating the Sweet Auburn Labyrinth
A Farewell to the Auburn Labyrinth on Sunday, January 23 from 12:30-4:00 p.m.
Join the pilgrimage to: meet the artists, honor the history of the MLK neighborhood, celebrate a path to the future, and share reflections of the journey!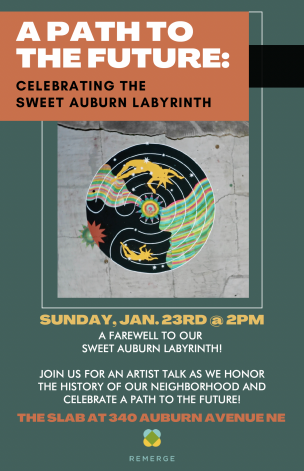 This event has been rescheduled to January 23 due to the wintry weather on January 16.
***PLEASE NOTE: Registration closed on Thursday, January 20. If you would still like to attend, you are welcome to join us. We had to close the boxed lunch reservation for planning purposes. But please feel free to join us and bring your own lunch!***
Not far from All Saints' is the legendary Sweet Auburn neighborhood, alive with Martin Luther King's energy and hundreds of creative initiatives for building bridges to community wholeness and love. Sunday, January 16 marks a celebration date of walking together to honor the REMERGE-commissioned labyrinth project and its deeper meaning of bringing people together on the same path.
REMERGE sponsors this event, and in the spirit of Faith in the City and the Peoplestown Partnership, The Labyrinth at All Saints' Ministry and The MICAH Project at All Saints' partner to honor this pilgrimage and celebration.
The mission of REMERGE is "to build communities of peace and activate others for the life transforming work of reconciliation." The installed painted labyrinth there is being closed to make way for a building project through the Historic District Development Corporation (HDDC), cofounded by Coretta Scott King.
Please join us for box lunch ($15 per person) and pilgrimage prayers following the 11:15 a.m. service in the Kennedy Courtyard, then we'll go onto Sweet Auburn for a gathering from 2:00-3:00 p.m. to meet the artists, hear their collaborative story, engage in neighborhood and labyrinth history, walk the labyrinth – and be present to honor the future use. The event takes place next to REMERGE at 340 Auburn Ave. (a 5 min. drive by Lyft/Uber for approximately $15). After the event, we'll return to All Saints' for reflections and closing prayers.
"We must walk on in the days ahead with an audacious faith in the future." ~ Martin Luther King, Jr.
***PLEASE NOTE: Registration closed on Thursday, January 20. If you would still like to attend, you are welcome to join us. We had to close the boxed lunch reservation for planning purposes. But please feel free to join us and bring your own lunch!***