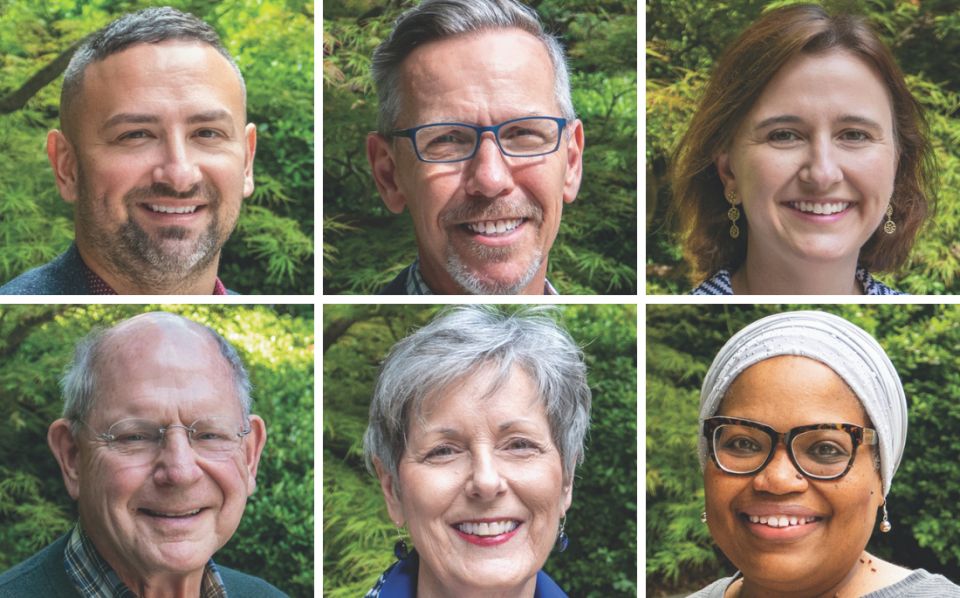 The vestry nomination committee has selected six new vestry members to be presented to the parish for approval. The nomination committee, composed of the retiring vestry members and three at large members, chose this slate of individuals from those nominated by the parish. All candidates are active in various ways at the church, and are confirmed, pledging members of the congregation who will bring their special talents to the current needs of All Saints'.
Your vote is needed to approve or disapprove the new slate of candidates for the vestry class of 2024. Results will be announced during our Annual Parish Meeting on Sunday, May 16.
---
Justin Averette
All Saints' Member since 2019
Recent parish activities include:
I've led Young Adults' "Jesus as a Radical Revolutionary" monthly formation discussions on social justice and weekly Compline prayers this past year. I'm also managing editor of Seasons magazine and served as a lay eucharistic minister in pre-COVID times.
Strengths and skills I can offer the vestry:
I've previously served on vestries at two, albeit much smaller, parishes in Alabama. I work as a communicator and would use those skills to be an ambassador and promotor for All Saints' and help us define and tell our story.
Justin would also like you to know:
I'm an Alabama native, former newspaper reporter and editor and currently work in corporate communications for Southern Company. I'm engaged to Dr. Jason Payne, and we live in Midtown. I'm on the board of directors for Atlanta Pride and enjoy playing softball, hiking, photography and reading.
---
Greg Cole
All Saints' Member since 2013
Recent parish activities include:
I have served as a facilitator for All Saints' Connects, participated in the Sacred Ground Dialogue Series, hosted an Earth Day work party at Emmaus House, preached during Holy Week and an MLK Sunday, lead an Adult Ed session, and participated in the Mustard Seed study group.
Strengths and skills I can offer the vestry:
As Executive Director of Emmaus House, I bring experience working with people living with material poverty, and a knowledge of some of the issues facing our city such as affordable housing and educational disparities. I have experience in nonprofit management, fundraising, liturgical planning, and theological education. Most of all, I have a passion for helping the church to provide spiritual nurture through service to others in a way that fosters equity and inclusion.
Greg would also like you to know:
I am the Executive Director of Emmaus House, a mission of the Episcopal Diocese of Atlanta. My partner, Staci Fox, and I have lived in Atlanta since 2013. I have a Master of Divinity degree from Harvard Divinity School and a certificate in Anglican Studies from Virginia Theological Seminary.
---
Louisa Johnson
All Saints' Member since 2011
Recent parish activities include:
My husband Danny and I served as the 2021 Annual Canvass Chairs. As our kids (ages 9 and 7) have grown, we have assisted Kathy Roberts as Sunday School teachers and have enjoyed getting to know families through Children's Choir and Wednesday Night Suppers. Before the pandemic began, I had just started learning the intricacies of Altar Guild, which I hope will continue when we resume in-person worship.
Strengths and skills I can offer the vestry:
I am a member of the Meals on Wheels Atlanta Board of Trustees, which has provided me with experience and understanding of management of charitable organizations. I also have worked as a lawyer for 18 years in Atlanta and, through pro bono work with local organizations, have provided legal assistance to non-profits and individuals in need. And I gained an understanding of the talent and depth of our parish and the resources and knowledge it possesses through the 2021 Annual Canvass.
Louisa would also like you to know:
For my family, All Saints' means community, and worship provides a sense of peace and calm in the midst of a busy world. We live not far from church, in the Morningside neighborhood. I am a management-side employment lawyer at Seyfarth Shaw LLP in Midtown.
---
Steven Moreland, MD
All Saints' Member since 1990
Recent parish activities include:
I became a parishioner in 1990 after listening to a fiery sermon of Harry Pritchett. I knew then that All Saints' was the place for me and my family. Over the next decade I served on the vestry for two separate terms under Harry and later with Geoffrey. I was Harry's Senior Warden during one term. Prior to that event, Bill Sparrow asked me to serve as Head Usher for the 9:00am service and have continued to usher at 9:00am since then. I have been a member of the committee to examine a candidate for the priesthood. I was asked to be a delegate to the General Convention of the Episcopal Church. Being a Lay Eucharistic Minister for almost 20 years has been particularly gratifying and inspirational for me. During the time of Ann Woodall, I was a member of Parish Life committee. Under a committee with Geoffrey, I assisted in selection of an assistant clergy person. For two years I was a full-time drug and alcohol counselor the resident members of Covenant Community. All in all, my life at All Saints' has been one of continued blessing and personal enrichment.
Strengths and skills I can offer the vestry:
I am a great listener, but I speak my truth when presented with a situation or request for comment. I excel at mentoring, teaching, and resolving conflict with individuals or groups. I am able to easily accept other opinions differing from mine with grace. I am committed to the general physical and spiritual welfare of the parish, clergy and staff at All Saints' doing all that I can to support those folks in all respects. I try to live my life according to God's will, following his commandments. The greatest of all for me is being loving and accepting toward my fellow human beings and myself.
Steve would also like you to know:
I have been married to Susie Livezey Moreland for almost six years. I was previously married to Louise Wattles Moreland. Louise and I have two adult children, Laura and Sarah. Laura has four children and Sarah has two children; both families live in Boston.
For 28 years I practiced Ob-Gyn at Piedmont Hospital with great partners and patients. I retired after some extensive neurosurgical surgery for spinal stenosis which was successful. Following that retirement, I worked as a clerk and pharmacy tech at Kings' Drugstore, now Walgreens, at Peachtree Battle Shopping Center for 10 years. My last full-time position was as a counselor at Covenant Community, ending in 2020.

I enjoy gardening, reading, and travel and spending time with my Boston families and my beloved wife, Susie.

Over the years I have served as a member of The Trinity School Board of Trustees, and Chairman, also serving on The Schenck School Board as Head of Strategic Planning. I was a member of the Chapter and Junior Warden at the Cathedral of St. Philip prior to joining All Saints'.
---
Gail Rogers
All Saints' Member since 1991
Recent parish activities include:
My current activities include serving as a verger and an usher; The MICAH Project Steering Committee; Library Committee; and Sacred Ground small group facilitator. In 2020 I facilitated two All Saints' Connects small groups; and in previous years I have co-chaired the Woodall Lecture Committee, chaired the Adult Education Committee; and am an EFM graduate.
Strengths and skills I can offer the vestry:
I was a public library director, so am experienced in managing a large organization, including personnel and budgeting, as well as planning for and providing services to the public. I am well versed both in working for a board and being on one. My verger and usher duties have taught me a great deal about how worship services work.
Gail would also like you to know:
I retired as Director of the Cobb County Library System in 2007, at the end of a 37 year career as a public librarian. In 2019, I moved to Canterbury Court, where I work in the residents' store, serve on the Residents' Council, and will be serving on the residents' Capital Campaign Committee. Other volunteer activities include the Cathedral Book Store Board, of which I am secretary, and the board of Mary and Martha's Place. I have three wonderful "honorary" grandchildren.
---
Charlene Smith-Stewart
All Saints' Member since 2007
Recent parish activities include:
My husband and I serve as greeters and enjoy the interaction with other parishioners. I am on the All Saints' Service Committee helping to coordinate our four core ministries. I participated in The MICAH Project whose mission is racial reconciliation. I'm also involved with the Sacred Ground Dialogue Circle which has a focus on racial healing. I'm currently serving on the Alternative Worship Committee and most recently, I have been serving as a lector.
Strengths and skills I can offer the vestry:
Longevity and the love I have for this parish are the main attributes that I bring with me to the vestry. My vision for All Saints' is to help it grow its spiritual awareness of our Savior Jesus Christ. I will strive to bring a spirit of unity and cohesiveness in the church that can transcend economic status, race, gender, or politics.
Charlene would also like you to know:
I'm originally from Queens, New York but became a Georgia Peach in 1995. My husband Uriah and I have been married for 29 years and have four adult children and three grandchildren. I am a homemaker, child minder, virtual tutor and all around super granny. I enjoy listening to all genres of music, reading, cooking, and the occasional road trip.
---